What is Teacher in a box
In a nutshell it is a huge interactive library of community and academic resources that can be accessed without internet. Yes, NO internet!!

Why is it needed
In many rural villages in developing countries there is no internet, and even in places where there is internet it may be unreliable, or the cost limits people's use. Teacher in a Box has a huge positive impact where there are limited teaching resources or teachers with limited training or education themselves. Our Teacher in a Box servers support self-paced learning as well as classroom teaching.

Thanks to the amazing generosity and efforts of not-for-profit educational software developers, our own computer donors and our volunteer workers, we are able to supply Teacher in a Box pre-loaded with a huge range of quality educational and training materials at minimal cost.
Read more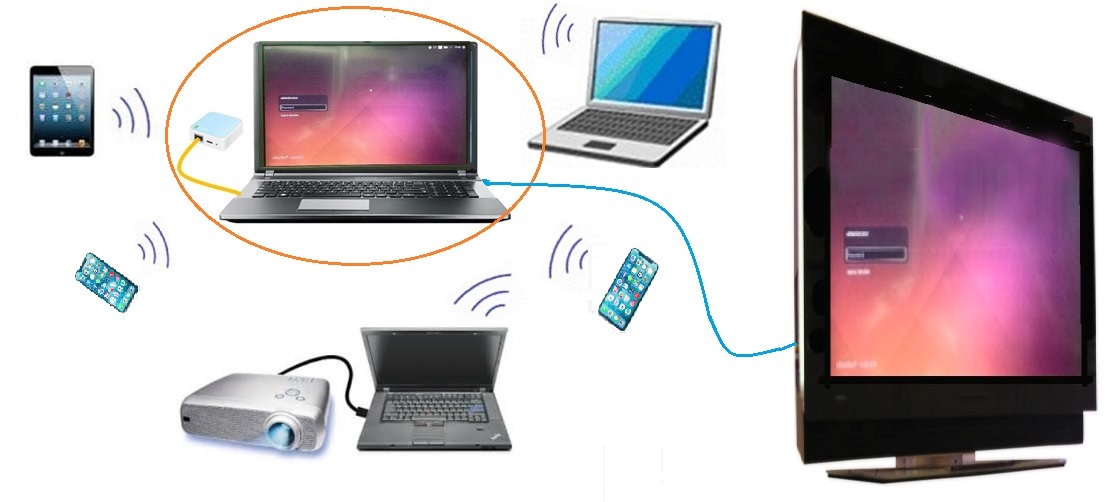 Features of Teacher In A Box
Teacher In A Box has been built through a series of iterations that have been tested in the field where internet access is difficult and power isn't neccessarily guaranteed.
No Internet Required
Teacher In A Box server is designed to work without internet and instead provides a Local Area Network (LAN) to enable devices in the local area to also connect through wifi and receive content.
Teacher In A Box servers are transportable
Where possible, we make use of re-purposed laptops donated from industry. TIB servers can be easily transported across different locations which maximises the benefit it supplies to the community.
Classes taught by English speaking teachers
English is the language of business in most developing countries and differences in syntax and pronunciation become apparent when taught by teachers whose main language is not English. Transposition of local words may occur.
Plenty of Educational Content
Hundreds of gigabytes of materials are aimed at community development and academic studies from primary through to university level. Apart from the huge amount of resources in English, we can provide limited customisation to include some other languages.
Adaptability forms the heart of the TIB server.
As such it can be used with a projector or TV to help facilitate classroom learning or connect devices to the LAN so learners can interact with the platform directly.
Feedback
Don't take our word for it – here's what our clients say:
"We had our session earlier today with the BFT folk and Teacher in a Box. They loved it! The challenge we put to them is to become familiar with the material, use it and promote it to other teachers in Siem Reap. One of the participants was a nurse and he was into the health stuff straight away. We had a computer that acted as a server and they loved the way they could connect up their laptops, tablets and mobile phones as well. They were like kids in a lolly shop not sure what to grab first"

Build Your Future Today (BFT)
Cambodia
We tested TIB at our Centre. One really good thing is that we can connect to a laptop in the upstairs Kinder room. It is also great because we don't have to squeeze into one room. I loved the English programs. Thanks so much for making this possible. The other good thing is the teaching typing download, which I have wanted for ages.

Isabel Armer
Bright Future Projects – Rotary Club of Yarra Bend
"Hope all is well with you and your team? We are getting our team organised for another trip to the Philippines in the early part of 2020. Our partners in UK Seaton Rotary Club would like to Project "Teacher in the Box" after the successful introduction of one set last year. We are looking at 4 Server/sets and 4 Monitors with Key Board, Mouse and required cables etc. this year."

John Bilboe
Illawarra Sunrise Rotary Club
Greetings from Liberia. Bishop Emmanuel Jones has advised that…. "271 students are benefiting from this project and the Khan Academy and The Rachel Academy are helpful tools that will give our children a solid foundation".

Champions School
Monrovia, Liberia
" It was indeed exciting to pick up the two kits. I can't wait to give them to the schools in Tanzania and I'm sure they will have great impact for both teachers and students. Thanks for your great training Ric."

Meab Mdimi
Rotary Club of Lockyer Valley
"We Get one TIB from some one bring we setup at our school at Kathmandu which is good programming. There are one small router so easy to teach. thank you.

Bright Futures
Katmandu, Nepal
Project Showcase
Click on each project image to view.